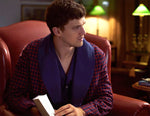 5 Nightwear Gifts for Him
The night is the time when we retire to our beds to shrug off stress and fatigue. Health experts around the world believe that the human body needs at least seven to eight hours of sleep every night to rejuvenate and distress. One of the several things that stand between us and a good night's sleep is uncomfortable nightwear.
To sleep like a baby, one needs to slip into comfortable nightwear that gently caresses the body. The sleepwear should be made of lightweight, free-flowing material that should take the shape of the wearer's body.
Comfortable nightwear can be an ideal gift for the special man in your life. When you gift men's nightwear to your partner, you don't just gift him apparel, but good sleep. The thoughtful gift is sure to spread a smile across his face. To help you make informed decisions, we have compiled a list of best nightwear gift ideas for men. Take a look.
1. Pyjamas 
Who doesn't love pajamas? They are easy to slip into and take off. Look for pajamas that are designed to not stick to the body. Pajamas feature different materials, including silk, cotton, linen, rayon, chambray, viscose, wool, and polar fleece. While cotton, linen, rayon, chambray, and viscose pajamas are fit for use in summer, wool and polar fleece pajamas sell like hot cakes during winter. Silk pajamas can be worn throughout the year.
2. Sweatpants
If your hubby sweats a lot, a pair of sweatpants can be a godsend for him. Sweatpants are designed to absorb moisture. To help your special one relax, steer clear of heavy fabrics such as fleece. Instead, look for sweatpants made of a material that is specially designed to wick away moisture. The best thing about sweatpants is that they can be worn throughout the year. When the mercury dips, sweatpants trap heat close to the body.
3. Thermal robes
Thermal robes are designed to facilitate cross ventilation. Best thermal robes do not stick to the skin. When buying a thermal robe for your man, make sure it features soft material for enhanced comfort. Look for robes with cotton-rich blend and a brushed interior for extra softness. Make sure it has pockets on both sides for convenience.
4. Lounge pants
When purchasing lounge pants, the most important thing to consider is the fabric. Look for pants that feature breathable fabric. Opt for pants that include heat transfer label for tagless comfort. To ensure your loved one gets a good night's sleep during winter, look for fleece lounge pants.
5. Underwear
Look for underwear made of microdermal fabric blend that feels luxurious without compromising on comfort. To give new life to your man's wardrobe, look for briefs with cool prints and patterns.